You can withdraw funds via the app by following the steps below:
1. Enter the withdrawal page via [Account - Transfers - Withdraw]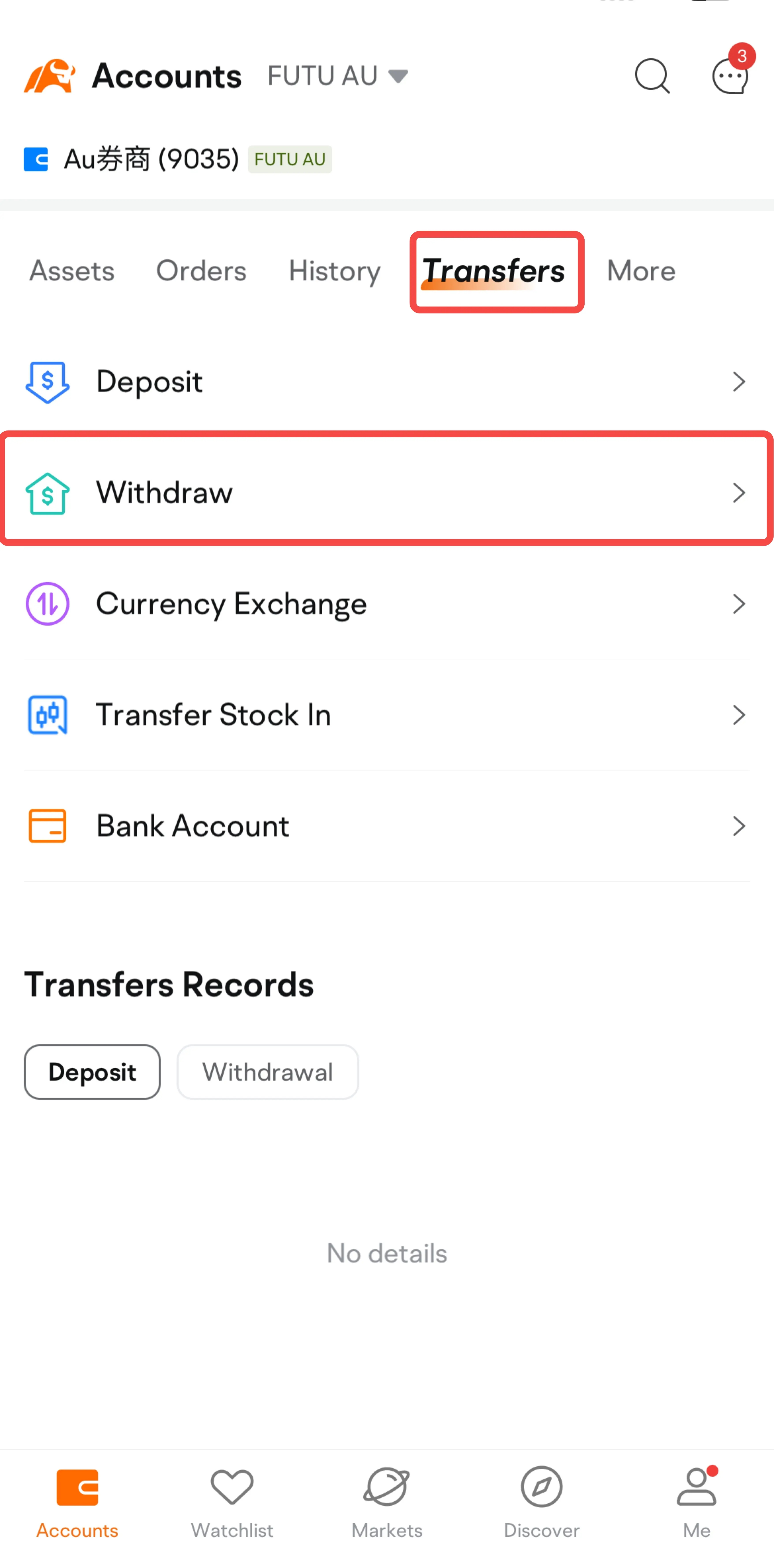 2. Select the currency (AUD is supported)
3. Select the beneficiary account (How to add a bank account?)
4. Enter the amount you'd like to withdraw
5. Submit the request and wait for the arrival of funds
Notes:
● We only support withdrawals from Futu AU to a bank account under your name.
● We only support withdrawals from Futu AU to a bank within Australia.
● If the securities sold have not been settled yet, your cash might be restricted from withdrawal.
Arrival time
After your withdrawal request is processed at our side, it normally takes 1-3 bank business days for the funds to appear in your bank account.
After Futu AU receives your withdrawal application, it will process it in time in the next working day, and will send you a message notification after the funds are remitted.
Handling fees
We do not charge any fee regarding your withdrawals, but there may be bank charges which will be deducted from the amount of your withdrawal.
How to view funds record?
You can view your funds record via [Accounts] - [More] - [Funds Record]
You can find your withdrawals with any of the five statuses shown below:
● In Progress: The withdrawal request is pending.
● Completed: The withdrawal request has been processed on our side.
● Cancelled: The withdrawal request has been cancelled by the client.
● Declined: The withdrawal request has failed the review. For details, please refer to the email and app notification.
● Reversed: The funds are returned to your Futu AU account due to a bank reversal.